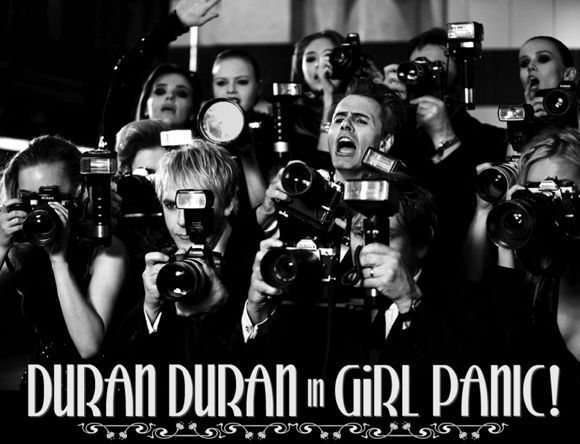 [youtube width="900″ height="530″ video_id="sSMbOuNBV0s" width="]
La Girl Panic Production è lieta di presentarvi la nuova perla dei Duran Duran. Non è solo un videoclip, ma un vero cortometraggio diretto dal regista svedese Jonas Arkelund, per promuovere l'ultimo singolo GIRL PANIC, tratto dall'album ALL YOU NEED IS NOW. Come passa la sua giornata una rock star? Nel lussuoso hotel Savoy di Londra può succedere di tutto: Interviste, foto, feste, fiumi di champagne, eccessi… e può succedere anche che gli stessi membri della band si trasformino in cinque super modelle! Questa è la storia…Naomi Campbell nel ruolo di Simon Le Bon, Helena Christensen è Roger Taylor, Eva Herzigova nei panni di Nick Rodes, Cindy Crawford in quelli di John Taylor…e la chitarra? La moglie della voce del gruppo, Yasmin Le Bon, è…"la chitarra"… difficile dire se stia recitando la parte di Andy Taylor, che ha lasciato la band per ben due volte, oppure quella di Dom Brown che lo sostituisce dal 2006. Non mancano le partecipazioni straordinarie di Domenico Dolce e Stefano Gabbana, che si divertono a ricomporre il look delle modelle durante lo shooting. E i veri Duran Duran? Pare che questa volta abbiano ruoli marginali, di divertente contorno, giornalisti, camerieri, fotografi, valletti, facchini…a completa disposizione delle star in questione! I veri Duran Duran la scena l'hanno già conquistata da tempo! I loro videoclip all'avanguardia li hanno resi famosi, mini story-line, che traevano spunto da film e libri d'epoca, erano il mezzo per presentare l'album in uscita, così questa volta, sono 5 alter ego d'eccezione a promuovere il tour europeo che inizierà il 30 novembre. La prima tappa sarà a Londra, per l'Italia le date non sono ancora state fissate, ma arriveranno certamente…girl no panic!
 The Girl Panic Production is pleased to introduce the new Duran Duran's pearl. It's not just a video, but a short film directed by Jonas Arkelund, to promote their latest single GIRL PANIC from the album ALL YOU NEED IS NOW. How is a rock star's day? In the luxurious Savoy Hotel in London, anything can happen: interviews, photos, parties, rivers of champagne, excesses … and the band's members themselves happen to turn into five supermodels! This is the story … Naomi Campbell in the role of Simon Le Bon, Helena Christensen is Roger Taylor, Eva Herzigova in the shoes of Nick Rodes, Cindy Crawford in those of John Taylor … and the guitar? The wife of the singer, Yasmin Le Bon, is … "the guitar" … difficult to say whether she is playing the part of Andy Taylor, who left the band twice, or that of Dom Brown, who has replaced him since 2006. No shortage of the special presence of Domenico Dolce and Stefano Gabbana, which enjoyed themselves arranging the look of the models during the shoot. And the real Duran Duran? It seems that this time they have marginal roles, as funny side dishes, journalists, waiters, photographers, valets, porters … at complete disposal of the stars in question! However the true ones have already conquered the scene long before! Their cutting-edge video made ​​them famous, mini story lines, which drew inspiration from vintage movies and books, were the means to present the new albums, so, this time, 5 super alter egos promote the European tour which will begin November 30th. The first stage will be in London, whereas the dates for Italy have not been established yet, but they will certainly arrive… Girls, do not panic!