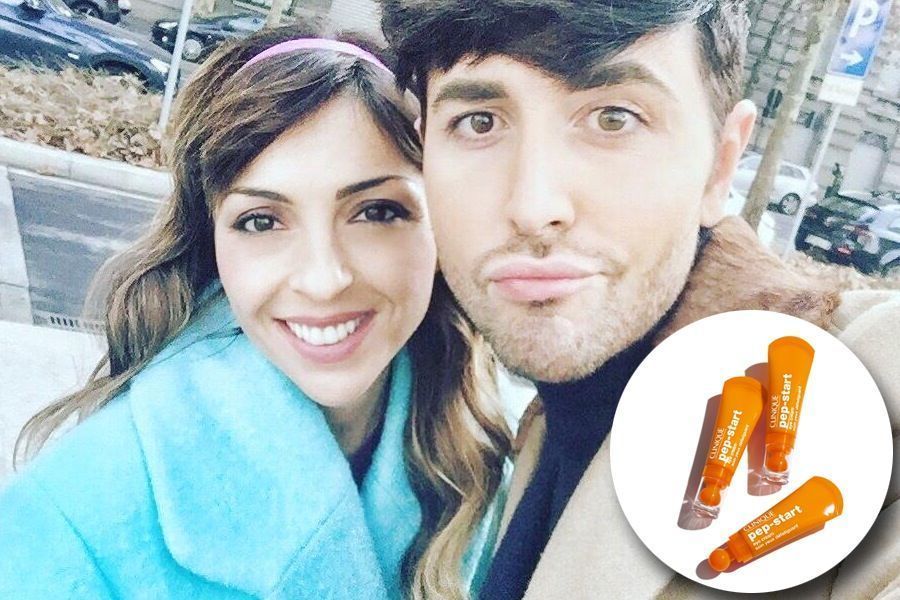 N
o, non mi servono carrozza, cavalli, abito da favola, scarpette di cristallo e principe azzurro, siamo nel 2016, non scherziamo! Ma se potessi avere una crema contorno occhi con cui ottenere uno sguardo fresco e luminoso in una manciata di secondi, beh, a quella non credo che direi di no. 
Bidibibodibibù!
Detto, fatto. 
Pep Start
Eye Cream
di
Clinique
è arrivata sulla terra! Il suo estratto di caffeina e di melassa illumina, lenisce e rinfresca gli occhi stanchi, il burro di Karitè, associato a un blend di ingredienti emollienti, apporta un'idratazione immediata e intensa; sette particolari peptidi presenti nella formulazione aiutano ad attenuare i segni dello stress, sostenendo la naturale produzione di collagene e le proteine del siero di letto associate a quelle della soia aiutano a mantenere l'aspetto del contorno occhi giovane e sano, illuminandolo.
Pep Start
Eye Cream
è da indossare sotto il make-up ed è adatto a tutti i tipi di pelle. La sua pratica confezione on-the-go è dotata di un applicatore a sfera con cui stendere il prodotto attraverso movimenti circolari che ne facilitano l'assorbimento. Una volta dosato su contorno occhi e palpebre, si picchietta con le dita fino a una totale stesura. Se a Cenerentola fosse stata offerta una crema contorno occhi 24 ore, i cui effetti non svaniscono allo scoccare della mezzanotte, sono sicura che ci avrebbe fatto un pensierino. Voi non esitate, correte da
Sephora
ad accaparrarvene uno, come abbiamo fatto noi nel video che vi presento oggi, realizzato dal fantastico team di
Clinique
capitanato da
Piera Toniolo
e con la partecipazione di
Carolina Ogliaro
,
Vittoria Ottaviano
,
Sophia Salaroli
, 
Jessica Neumann
,
Juliane Borges
,
Matteo Manzini
ed io che apriamo le danze 😉 … buon divertimento!
No, I don't need a carriage, horses, a fabulous dress, crystal shoes and a prince charming, we're in 2016, stop joking! But if I could have an eye contour cream for a bright and radiant look in a few seconds, well, I would say definitely yes. Bibbidi-bobbidi boo! here it is.  Pep Start Eye Cream by Clinique has landed on planet earth! Its caffeine and melissa extract refreshes tired eyes, the karité butter combined with a mix of moisturizing ingredients gives an immediate and intense hydration; seven special peptides present in the formulation help cancel the stress marks supporting the natural collagen production and the milk serum proteins combined with soya maintain a young and healthy look and add a radiant touch to your eyes.Pep Start Eye Cream must be applied under the make-up and is suitable for any skin type. Its on-the-go packaging is equipped with a sphere-shaped applicator to spread the product with circular movements that favour its absorption. Once dosed on eyes and eye-lids, tap with fingers to distribute it uniformly. If Cinderella had been offered a 24/7 eye cream whose effects don't disappear after midnight, she would have thought about it, I'm pretty sure. Don't hesitate, go to Sephora stores and get one as we did in the video I'll show you today, created by the fantastic team at Clinique guided by Piera Toniolo and with the participation of Carolina Ogliaro, Vittoria Ottaviano, Sophia Salaroli, Jessica Neumann, Juliane Borges, Matteo Manzini and I opening the ball 😉 … have fun!