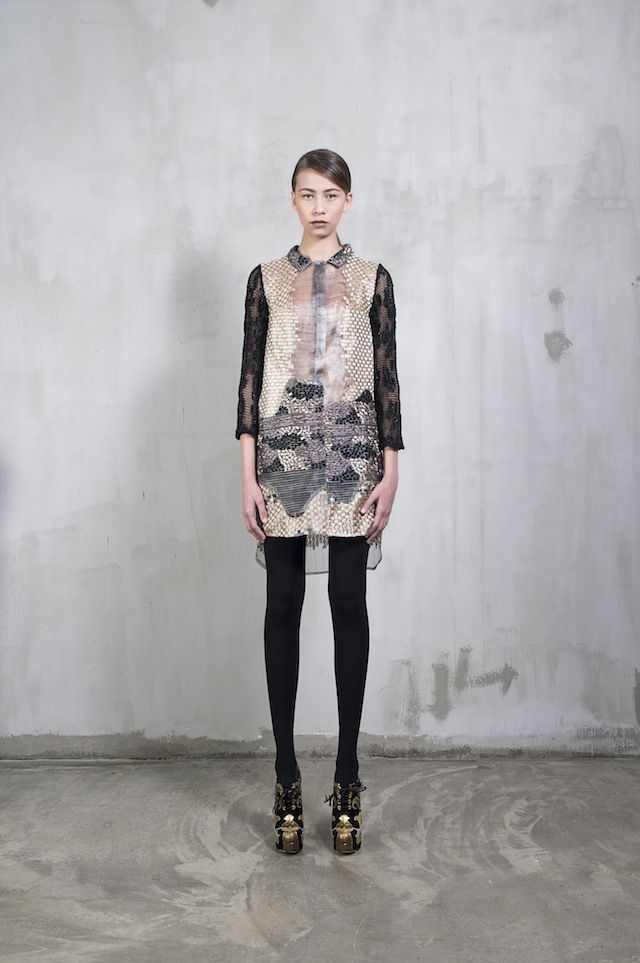 [youtube width="900″ height="530″ video_id="wjbf1zwq2jE"]
Dimos Natar e Andreas Georgiou sono la mente creativa di questo brand nato nel 2010 e che si posiziona in una fascia alta di lusso e design. La collezione autunno inverno si ispira alle cattedrali italiane e francesi, immaginate di entrare in una di esse e di vedere i raggi del sole infrangersi sui loro vetri facendoli riflettere di luce colorata, le stesse cromìe si trasferiscono sull'innovativa lavorazione a maglia, ormai segno di riconoscimento del marchio. La lana, materiale apparentemente semplice, si mescola ad organza, chiffon, cashmere, dettagli preziosi e fili metallici per alterarsi, trasformarsi e diventare brillante, come i vetri pittoreschi a cui la collezione fa rifermento. Una palette di colori che abbraccia i colori freddi: viola intenso, blu scuro, turchese, e quelli caldi: rosso, arancio, giallo, bronzo, per abiti da giorno e da sera dai tagli asimmetrici e pantaloni a vita alta abilmente strutturati che riassumono un'idea fatta di eleganza e di grande individualità.
Dimos Natar and Andreas Georgiou are the creative minds behind this brand born in 2010 which places itself in a high luxury and design segment. The autumn/winter collection gathers inspiration from Italian and French cathedrals, just imagine to enter one of them and notice the sun rays striking the window glasses and reflecting colored beams all around the same chromatic hues transferred on its innovative knitting, that has become a characteristic feature. Wool, a plain material you would say, mixes with organza, chiffon, cashmere, precious details and metal treads to alter, change into and become brilliant, like the picturesque glasses referred to by the collection. A colour palette which embraces cold hues: deep purple, dark blue, turquoise, and warm ones: red, orange, yellow and bronze, for day and night dresses featuring asymmetric trims and high waistline trousers skilfully structured which encompass both the idea of elegance and great individuality.