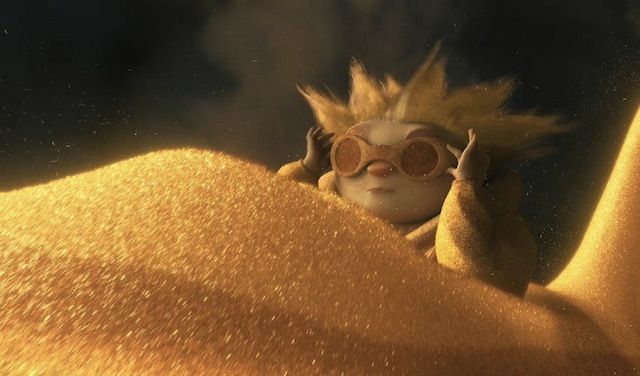 [youtube width="900″ height="530″ video_id="29NgBfM8hKo"]
 Se il coniglietto di Pasqua esiste? Non lo so davvero! Più che alla fatina dei dentini credo a quella dell'apparecchio… che se lo metti ogni notte, non sotto il cuscino però, ti porterà presto un bel sorriso. Credo che Babbo Natale arrivi dove non possono arrivare mamma e papà e credo ai suoi grandi occhioni, alla meraviglia che c'è dentro di loro. Ma quello in cui più credo è sicuramente Sandman, l'omino dei sogni… perché se quelli non ci fossero non esisterebbe neppure Jack Frost e il divertimento nel realizzarli. Poi c'è l'uomo nero e credo anche a lui…in fondo quante sono le mie paure? Tantissime, ma non una: quella di sbagliare…perché sbagliando si impara… a non ripetere gli stessi errori, a tenere duro, a non mollare, a non arrendersi. Credo alle piccole cose, credo che una canzone allegra possa migliorarti la vita, credo che una nuotata possa lavare via i cattivi pensieri, credo che una bella piega ai capelli possa raddrizzare anche quella di una giornata storta. Credo all'adrenalina, all'entusiasmo che possiedo e che nessuno ha il diritto di spegnere. Credo nei sogni…al mio sogno… che non si è mai impolverato perché da sempre è custodito in quel cassetto, credo che con la volontà, la costanza e la pazienza un giorno si avvererà. Credo alla mia mente che mai smetterà di pensare continuamente a qualcosa…. credo al mio cuore che mai smetterà di sperare che ognuno di noi ne ha uno… e credo alla frase: "chi li usa entrambi è unico"… Buon anno a tutti!
Does Easter Bunny exist? I don't have a clue! I believe more in orthodontics than in tooth fairies… As if you wear it every night, not under your pillow tough, will give you a nice smile. I believe that Santa gets where mom and dad can't get and I believe in his big eyes and in the magic that lies in them. But what I believe most in is Sandman, the lord of dreams… As with no dreams Jack Frost and the pleasure in make them come true wouldn't exist either. And bogeyman, I believe in him too…how many fears have I got? A lot, but not one: that of making mistakes…as practice makes perfect… and mistakes teach you how not to repeat the same mistakes again, to hold out, never give up, never surrender. I believe in small things, I think that a cheerful song can make your life better, I believe that a swim can wash away your bad thoughts, I think that a good hairstyle can put right a wrong day. I believe in my adrenaline, in my enthusiasm and nobody is entitled to destroy them. I believe in dreams…in my dream… that has never become dusty as it has always been cherished in that drawer and I believe that, one day, thanks to my perseverance and patience, it will come true. I believe in my mind that will never stop thinking 24/7… I believe in my heart that will never stop hoping that everybody has a heart… And I believe in the phrase "those who use their brain and heart together are unique"… Happy New Year everybody!!