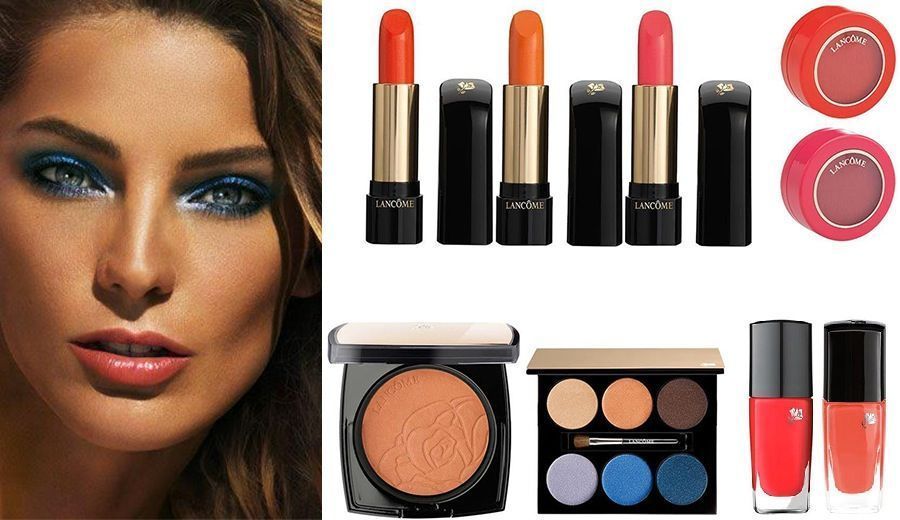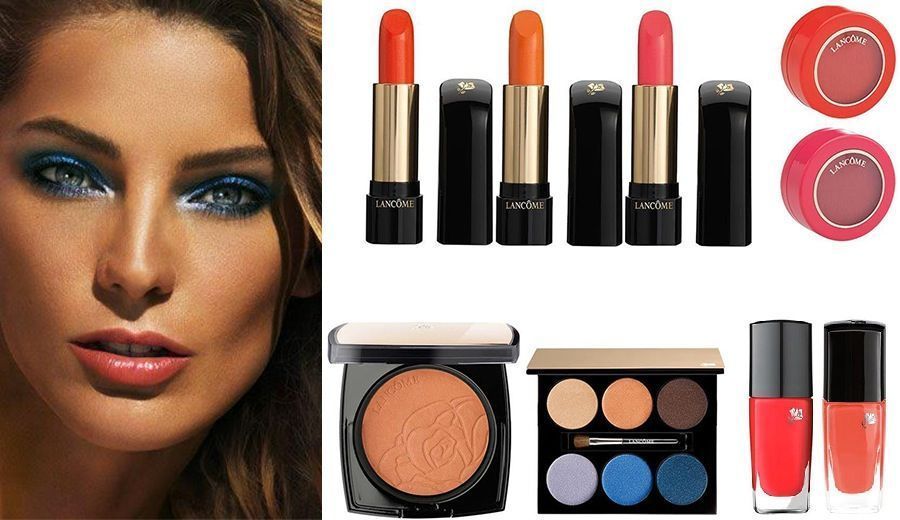 L'estate è arrivata e con lei anche French Paradise di Lancôme. Come essere delicatamente chic senza alcuno sforzo e raggiungere la spiaggia con stile ed eleganza? I prodotti della nuova collezione possono rispondere a questa domanda. Serve un incarnato baciato dal sole, zigomi frizzanti e naturali, un paio di labbra delicate e brillanti, un ombretto che possa resistere all'acqua e offrire uno sguardo ultra seducente e una manicure perfetta e accattivante. Il paradiso di Lancôme è a portata di mano.
BELLE DE TEINT. La polvere effetto naturale dal delicato profumo di rosa. Un tocco di luce che riaccende lo splendore dell'incarnato con un semplice gesto. Due nuovi colori in edizione limitata: Belle de Lumière: un oro chiaro delicatamente perlescente e Belle d'été: un bronzer solare glitterato. BLUSH SUBTIL CREMA è un vero e proprio concentrato di colore che offre alla pelle un tocco di splendore e di freschezza. Una nuova formula ibrida senza olio, non grassa e non appiccicosa. Veste gli zigomi di un colore vibrante, aumentando lo splendore e la luminosità della pelle. Disponibile in due varianti: Coral Alizé: un corallo luminoso, delicatamente riscaldato da madreperla dorata. Brise Rosée: un rosa fresco per uno splendore tutta in trasparenza e Rouge Mistral: un rosso frizzante molto seducente. HYPNÔSE PALETTE. Oro, blu, azzurro, indaco e corallo ipnotico. Uno smoky sofisticato da realizzare con i colori intensi e profondi di questa palette in edizione limitata. OMBRE HYPNOSE STYLO. La sua texture in crema waterproof si fonde sulla pelle e resiste a lungo. Disponibile in tre varianti: Azur Méditerranée: un blu intenso e magnetico dagli accenti metallizzati. Corail Doré: un oro rosa, leggermente iridescente per uno sguardo da sirena e Bronze Falaise: ramato e ambrato. L'ABSOLU ROUGE  è il rossetto leggero dalle tinte fresche e semitrasparenti. La versione: Corail Alizé Sheer è un arancione leggermente dorato, Brise Rosée Sheer è un corallo con tocchi di rosa freddo e, per finire, Mistral Sheer: un rosso frizzante e luminoso. Ideale se mixato con BLUSH SUBTIL CREMA. VERNIS IN LOVE. Lo smalto può essere cambiato anche tutti i giorni, a seconda di ciò che decidiamo d'indossare. Ocre Méditerranée: un rosso dai riflessi corallo, Corail Rouge: un corallo luminoso e delicato e Bleu Lasure: un blu elegante e fresco. ILLUMINATORE DI COLORE VERNIS IN LOVE è il flacone trasparente con tappo oro che racchiude un top coat particolarmente ingegnoso. Protegge il colore, prolunga la tenuta e aumenta la brillantezza. La tecnologia Gel-Like si ispira a quelle del gel UV e dà vita a questa formula di nuova generazione che migliora l'aspetto e lo spessore dell'unghia con un effetto ultra- glossy. La manicure è ristrutturata e ha una brillantezza a specchio.
Summer has come and with it, the French Paradise by Lancôme. How to be delicately chic with no effort and arrive at the beach in style and elegance? The products of this new collection are the answer. You need a sun-kissed carnation, fresh and natural cheeks, delicate and brilliant lips, a water-proof eye-shadow for a seducing look and a perfect and captivating manicure. Lancôme paradise is here for you.
BELLE DE TEINT. A natural look powder with a soft rose scent. A touch of light that lights up your skin colour. Tow new colours in limited edition: Belle de Lumière: a bright golden hue with pearled reflections and Belle d'été: a glittering sun bronzer. BLUSH SUBTIL CREMA is a real concentrate of colour offering the skin a touch of brightness and freshness. A new hybrid formula, oil-free, not greasy or sticky. It dresses your cheeks with a vibrant colour, increasing the brilliance of the skin. Available in tow shades: Coral Alizé: a bright coral hue, gently warmed by golden mother-of-pearl shades. Brise Rosée: a soft rose tint for a transparent iridescence and Rouge Mistral: a seducing sparking red. HYPNÔSE PALETTE. Gold, blue, light blue, intense dark blue and hypnotic coral. A sophisticated smoky to create with the deep hues of this limited edition palette. OMBRE HYPNOSE STYLO. Its waterproof creamy texture perfectly blends with your skin and is long lasting. Available in three shades: Azur Méditerranée: intense, magnetic blue with metalized hints. Corail Doré: a golden pink shade, slightly iridescent for a seducing look and Bronze Falaise: a copper ambre tint. L'ABSOLU ROUGE is a light lipstick with fresh and semi-transparent colours. The Corail Alizé Sheer hue is golden orange, Brise Rosée Sheer is a coral tint with cold pink shades and Mistral Sheer: brilliant and shiny red. Perfect in combination with BLUSH SUBTIL CREMA. VERNIS IN LOVE. Nail polish can be different every day matching our outfits. Ocre Méditerranée: a red with coral shades, Corail Rouge: a delicate and luminous coral and Bleu Lasure: elegant and fresh blue. ILLUMINATORE DI COLORE VERNIS IN LOVE is a transparent bottle with golden top that is a special top coat for your nails. It protects the nail polish colour, make sit last longer and increases brilliance. Its gel-like texture recalls that of the UV gel, a new generation formula that improves the aspect and thickness of nails wtih an ultra-glossy effect. Manicure is healthy and elegant and has a mirror-like brilliance.