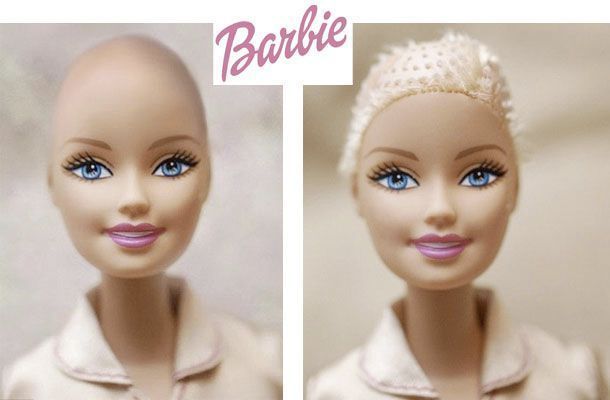 [youtube width="900″ height="530″ video_id="JKi4qvDN9BY"]
 E a Barbie che ha proprio tutto, per inventare qualcosa di diverso, hanno pensato di togliere qualcosa…i capelli! La Mattel, dopo tante pressioni su Facebook mosse da due donne malate di cancro, crea la Barbie calva…finalmente…i bambini non vedevano l'ora! Ma piccoli miei non illudetevi di averla tanto presto… pare che questo fantastico prodotto non sarà commercializzato, al momento verrà donato solamente ai bambini degli ospedali pediatrici di America e Canada…peccato! La polemica degli ultimi giorni batte proprio su questo punto: perché non venderla? Perché non sensibilizzare anche la categoria che ne fa uso? Accontentiamo questi ragazzini! E io mi domando: ma a Barbie chi ci gioca? Grandi o piccini? Fino a prova contraria sono i bambini a doverci giocare… e credo che una delle peculiarità per cui gli stessi sono attratti da Barbie sia proprio la lunga chioma da pettinare. Le rimpoverano di essere troppo magra, con la vita troppo sottile e i fianchi troppo stretti…troppo perfetta… dicono che il suo aspetto non rispecchia quello di una donna reale…ma Barbie non lo è! Qualcuno ricorda che è un giocattolo per bambini e che ai bambini queste paranoie da adulto non interessano? Dopo essersi messa alla prova con tutti i mestieri possibili e immaginabili, ora vogliono che la Barbie diventi più matura, (un giocattolo che deve crescere?!? Teddy Ruxpin problemi del genere non ha mai dovuto affrontarli!) che si ammali di cancro e perda i suoi capelli…e le ragioni sarebbero??? Perché il consumatore finale vive il dramma di una mamma malata o, ancor peggio, perché lui stesso deve combattere questo male e giocare con qualcosa che gli ricorda un momento tanto "felice" o con un giocattolo che gli somiglia lo farebbe sentire meglio. Il gioco per un bambino deve essere distrazione, divertimento e anche formazione, ma un bambino deve pensare a cose tanto terribili anche mentre si distrae, si diverte e si forma? Gli adulti nel tempo libero visitano i reparti di oncologia? Non credo…giocano a carte, leggono libri, vanno al cinema, fanno sport ed escludo anche che si mettano a giocare a Barbie… Poi è vero, a volte anche gli adulti "giocano" con le bambole…ma sono fatte in modo diverso… si è mai preoccupato qualcuno di criticarne una gonfiabile? Qualcuno ha mai detto che ha la bocca troppo grande?!? I veri giocattoli lasciamoli ai bambini, i grandi hanno dimenticato da tempo a come si gioca e forse sarebbe meglio se si dedicassero a cose che gli competono invece di mettere il naso negli affari dei piccoli…e la Barbie è proprio uno di questi!
 To invent something new, someone has thought to take something away from Barbie, she, who has really everything….her hair! Mattel, following a strong pressure on Facebook by women with cancer, creates a bald Barbie…wow….children were looking forward to it! But don't kid yourselves, you will not have it so soon… It seems that this "fantastic" product will not be sold, At the moment it will be only donated to children in paediatric hospitals in the USA and Canada…what a pity! The debate of these days focuses on this: Why don't they sell it? Why don't they make public opinion aware of the problem? Let's indulge our children! And I wonder: who plays with Barbie? Children or adults? Until proved otherwise, children play with Barbie… And I think that one of the characteristics that attract them is Barbie's long and soft hair to comb and style. They reproach her for being too slim, with wasp-waist and hips….too much perfect… They say her aspect does not mirror that of a real woman…. But have we forgotten that she is not real? She is a toy for children and children do not care about these paranoia… after having tried all possible jobs they want Barbie to become mature, (a toy that must grow up?!? Teddy Ruxpin didn't have this kind of problems!) They want her to fall ill and lose her hair….and what for??? Because final users live the tragedy of a mother with cancer or, even worse, because children themselves have to fight against this terrible disease and playing with a toy that reminds them of this "happy" moment or with a toy with the same disease, can help them. Toys for children must be entertainment, fun but also learning, but do children have to think about such a terrible tragedy even while having fun or learning? In their free time, do adults visit oncology wards? I do not think so….they play cards, read books, go to the cinema, do sport and I also exclude that they can play with Barbie… Yes, sometimes adults "play" with dolls too….but these dolls are quite different…. Has someone ever criticised sex dolls? Has someone ever said that their mouth is too big?!? Let's leave toys to children, adults have forgotten how to play and they should deal with their own business instead of interfering with children business…like Barbie is!