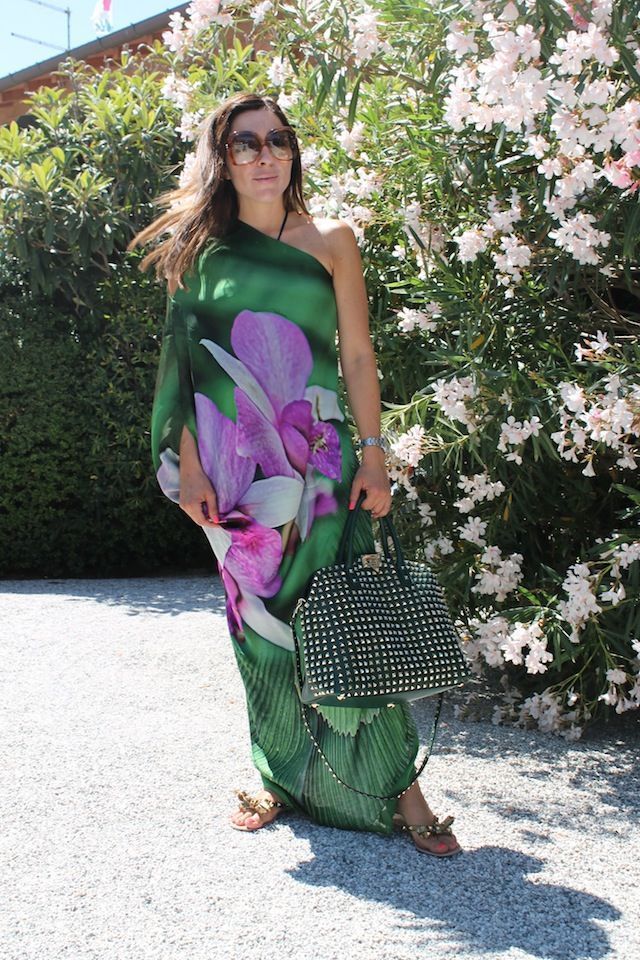 [youtube width="900″ height="530″ video_id="BKM46O-khMQ"]
Era da dicembre che Matteo e io non ci prendevamo una pseudo vacanza-lavoro, dopo Cortina è stata la volta di Forte dei Marmi e Portofino. Qualcuno ama testare la propria indole canora sotto la doccia e c'è chi invece usa la macchina come potenziale sala di registrazione… noi apparteniamo sicuramente a questa categoria… Una scaletta di canzoni eseguita con grande passione che mi ha ricordato la scena del film "Lo Spaccacuori", in cui Eddie e Laila cantano a squarciagola! Siamo arrivati in Versilia il sabato a mezzodì e dopo un pranzo veloce abbiamo passato il pomeriggio in spiaggia ad abbronzarci… il risultato è stato una tintarella tangerine, che peraltro è un colore molto di moda in questa stagione! L'insolazione e le ustioni di primo grado non ci hanno però impedito di raggiungere la meta che ci eravamo prefissati, Portofino, e in particolare la boutique di Louis Vuitton che ci ha invitato per l'apertura del nuovo negozio, che ora, oltre agli accessori, dispone di una piccola selezione di prêt-à-porter uomo e donna. Ma Portofino, così magica, così romantica, così fuori dall'ordinario è oltretutto un luogo perfetto per incontrare amici che non si vedono da parecchio tempo… la nostra Ludovica di Mua Mua Dolls è rientrata in Italia qualche giorno fa e ci ha raggiunto con un gruppo di ragazzi davvero top con cui abbiamo passato una bellissima serata. Come per magia, la mattina seguente ci siamo svegliati in Versilia e, a cavallo di due biciclette "supersoniche", siamo arrivati in centro a Forte per salutare alcuni amici e per fare una piccola selezione di alcuni pezzi che dobbiamo assolutamente avere. Vi farò vedere cosa sto puntando, nel frattempo vi lascio con un divertente video, montato da Matteo, che riassume non solo la piccola vacanza, ma sopratutto il concentrato della nostra pazzia! Buon divertimento!!!
Matteo and I haven't had a holiday since last December in Cortina, so, this time we opted for Forte dei Marmi and Portofino. Somebody loves to sing while having a shower, others sing while driving as if their car was a recording studio.. we surely belong to the second category… A series of top hits sung with passion that reminded me of "The heartbreak kid" movie, the scene where Eddie and Laila sing at the top of their lungs! We arrived in Forte dei Marmi last Saturday at midday, we had lunch and then we spent the afternoon sunbathing on the beach… The result was a tangerine tan, a colour that is very fashionable this summer! The sunburn didn't stop us from setting off to our other destination, Portofino, in particular for the opening party of the new Louis Vuitton boutique, that now also sells a small selection of man and woman prêt-à-porter pieces. Portofino is such a magic, romantic and extraordinary place, the perfect location where to meet old friends…. Ludovica of Mua Mua Dolls, back to Italy a few days ago, joined us there with a group of other very nice friends and we spent a wonderful night together. As if by magic, the morning after we woke up in Forte dei Marmi and riding two "supersonic" bicycles, we went to the town centre to do some shopping of course. I'll let you know you soon about my must-have pieces, meanwhile Enjoy this film, filmed by matteo, that summarizes our holiday and above all, our foolishness!!! Enjoy!!