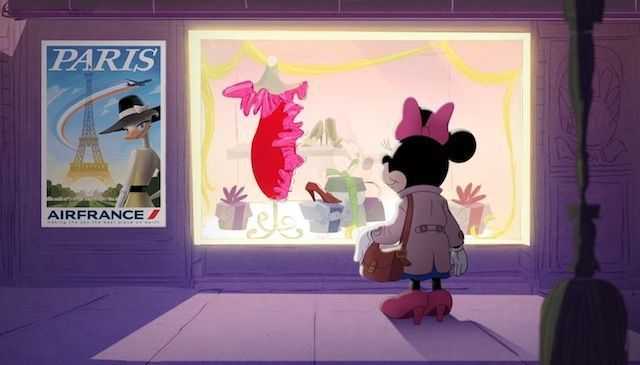 [youtube width="900″ height="530″ video_id="jU01jBw9HB4″]
Ricordate della campagna natalizia organizza da Barneys New York e Disney? Si chiama Electric Holiday e ve ne ho parlato di recente. Un paio di giorni fa è uscito il video dedicato a questo progetto e non mostrarvelo sarebbe stato un peccato… sopratutto perché, come immaginavo, Disney è riuscita a zittire anche i più i maliziosi, quelli che lo avevano accusato di aver "violentato" l'immagine di Minnie, di averla fatta dimagrire troppo e di averla resa triste, secca e sciatta…per farle calcare la passerella. E invece Minnie è più "umana" di quanto non sia mai stata, perché si ritrova a sognare davanti a una vetrina immaginando di poter indossare l'abito dei suoi desideri e di farlo in occasione di una festa speciale, ma che dico una festa, un evento importante, ma che dico un evento…a una sfilata, di cui è lei la vera protagonista! Tutti i nomi più importanti del mondo della moda stanno lì ad ammirarla, e qualche amico a lei caro l'accompagna in questa avventura: Topolino in Balenciaga, Pippo in Balmain, Paperina in Dolce & Gabbana, Biancaneve in Nina Ricci, Crudelia De Mon in Rick Owens e Tiana in Proenza Schouler. E chi di noi, non si è mai fermato a sognare a occhi aperti, ad immaginare su di noi l'abito di una vetrina? L'abito che abbiamo visto sul corpicino della modella, ma che sapremmo indossare anche noi con decoroso stile, anche se con qualche chilo in più addosso…se qualcuno fosse disposto a regalarcelo! Il sogno diventa realtà e a pensarci è proprio Topolino… Minnie, nelle "forme" in cui siamo da sempre abituati, scarta il suo pacco di Natale e può finalmente indossare il suo abito di Lanvin…che le sta d'incanto!
Do you remember about the Christmas campaign organised by Barneys New York and Disney? It's called Electric Holiday and I've recently written a post about it. A couple of days ago the video dedicated to the project was released and not showing it would have been a pity… Mainly because, as I imagined, Disney have managed to hiss the most mischievous, those who had accused them to have "violated" the image of Minnie, as she was too skinny and sad….modelling on a catwalk. On the contrary, Minnie is more "human" than she has ever been, as she finds herself dreaming in front of a shop window imagining to wear the dress of her wishes and doing it during a special party, no, not really a party, an important event, no, not really an event…..a runway show where she is the absolute protagonist! All the most important names of fashion are there to admire her, and some dear friends of her are with her in this adventure: Mickey Mouse in Balenciaga, Goofy in Balmain, Daisy Duck in Dolce & Gabbana, Snow White in Nina Ricci, Cruella De Vil in Rick Owens and the princess Tiana in Proenza Schouler. And who of you has never dreamt with open eyes, imagining to wear a fabulous dress? The dress we have seen on a skinny model but that we can wear ourselves too with a touch of personal style, Even if with some kilos more….just if someone would be so nice to buy it for us! The dream comes true and Mickey Mouse does it… Minnie, in her usual "shapes", unwraps her Christmas gift and she can finally wear her Lanvin dress….that is just perfect on her!