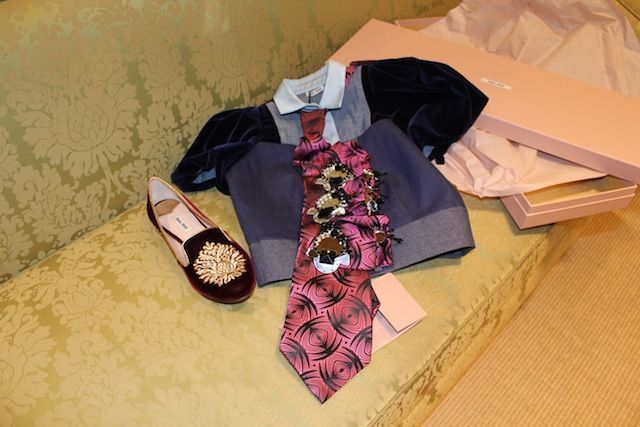 [youtube width="900″ height="530″ video_id="V_wEhN1UspE"]
Domanda: "Quante volte ho dichiarato pubblicamente il mio amore per Miu Miu?" Risposta: "Tante, tantissime!" E anche se sono in vacanza e alla fine di questa non voglio nemmeno pensarci, la deformazione professionale mi porta comunque a riflettere su ciò che sarebbe conveniente indossare a settembre per le fashion weeks. La mia squadra preferita mi aspetta a Forte dei Marmi… sventolando davanti ai miei occhi l'accessorio simbolo della collezione autunno inverno: la maxi cravatta stampata con applicazioni a specchio e cristalli ma per un accessorio così ricercato, nel vero senso della parola perché è introvabile, ci vuole un outfit che sia alla sua altezza. Avrei potuto indossarla con la giacca dalle maniche a palloncino in velluto e la pantofola, che sarà un must della prossima stagione, ma spesso, per quella suddetta deformazione professionale di cui parlavo prima, non basta trovare "qualcosa" che stia bene con…specialmente se stai comprando un pezzo di sfilata! Quel delizioso trittico, che vedete nella prima foto così amorevolmente composto, un anno fa mi avrebbe convinto, oggi no… è come dire a un intenditore di vino di mescolarlo con l'acqua… che tradotto nella mia lingua significa: MAI mescolare sfilata e pre-collezione…MAI! E poi si sa, "chi beve solo acqua ha un segreto da nascondere"… meglio aggiungere anche un digestivo e concludere, ripensando al mood della sfilata, al print-mix multicolor, con il gilet dal collo a camicia maschile abbinato al jabots di un'altra fantasia. Ora sono proprio soddisfatta, ma mi chiedo: "il fashion blogger compra davvero solo quello che gli piace o è anche lui schiavo di regole che vanno oltre al gusto puro e semplice?" E mi rispondo che a volte la deformazione professionale restringe solo il campo di scelta nel quale ricercare il proprio stile.
Question: "How many times have I officially declared my love for Miu Miu? Answer: "Many times and more!" And though I am on holiday and I don't even want to think to the end of my summer relaxation, The professional bias makes me think of what it will be good to wear in September during fashion the week shows. My favourite team waits for me in Forte dei Marmi… flapping the iconic symbol of the fall winter collection in front of me: the printed maxi-tie with mirror-like and crystal applications but such a sought-after accessory, literally speaking as it's almost impossible to find, deserves the perfect outfit. I could have worn it with the velvet balloon-sleeves jacket and slippers, which will be a must-have for next season, but, always due to the above mentioned professional bias, finding "something" that suits or matches with…. is not enough, especially when you are buying a must-have iconic piece! The perfect and delightful trio that you can see in the first photo would have convinced me a year ago but not today… it's like telling a wine expert to mix it with water… that, translated into my language, means: NEVER mix runway pieces with pre-collection ones…NEVER! And you know, "never trust those who drink only water as they have a secret to hide"… Better adding an after-dinner drink and thinking of the runway mood, the multi-colour print-mix, with shirt-neck waistcoat combined with the jabots with another print. Now, I am really happy with my solution, but I wonder if fashion bloggers really buy what they like or are they victims of fashion rules beyond personal taste and style? And I think that the professional bias only narrows the selection where to find your personal style.