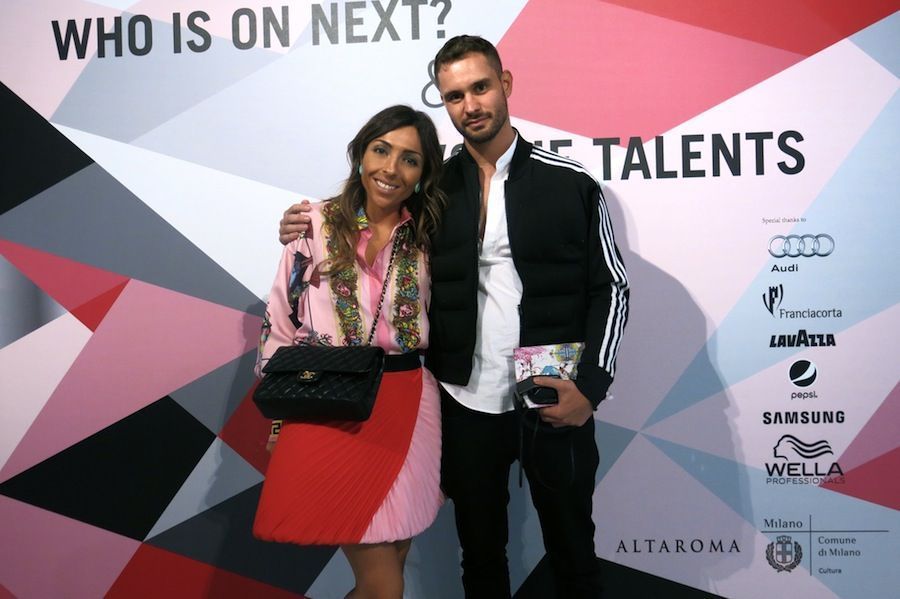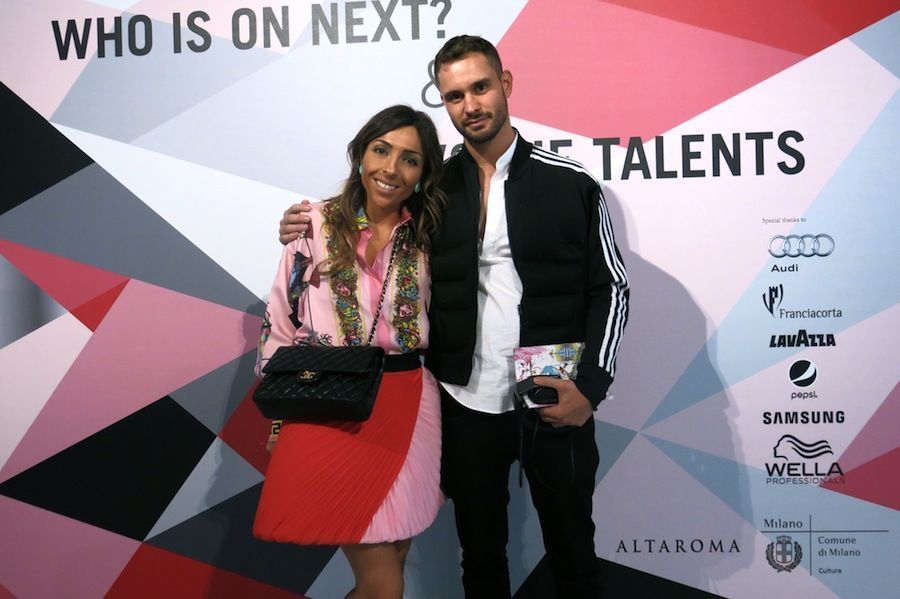 Giovane, ma con le idee molto chiare, il suo stile vive in ciò che crea: combinazioni di raffinata femminilità. Piccione Piccione è il vincitore dell'ultima edizione di Who is on Next? ed è ciò che io definirei la nuova promessa della moda italiana. Dietro qualcosa di sublime c'è sempre una persona speciale capace di concretizzare un sogno e renderlo portabile, attraverso creazioni nate per vestire di fascino la donna di oggi. Ecco cosa ci siamo detti durante la nostra piacevole chiacchierata.
Salvatore raccontami, come nasce il marchio Piccione Piccione?  Piccione Piccione nasce due anni e mezzo fa, dopo una serie di bellissime esperienze che ho fatto in inghilterra dove ho imparato tante cose. Mi sono avvicinato a realtà importanti che mi hanno fatto crescere e maturare, ho affinato le mie capacità e messo in pratica quello che avevo appreso a scuola, prima al liceo artistico, poi allo IED di Roma, fino a che è arrivato il momento in cui ho deciso che volevo concentrarmi sulla moda, il momento in cui ho capito cosa volevo fare nella vita: avere un marchio tutto mio.  Cosa sarebbe una tua collezione senza le stampe? Sono diventate il tuo segno di riconoscimento. Perché hai voluto che fossero loro a caratterizzare il tuo stile? Le stampe mi danno la possibilità di identificare un prodotto in un mercato in cui c'è grande competizione. Oltre alle idee e che vengono elaborate al fine di ottenere un risultato originale e di qualità, è necessario fare attenzione al prezzo finale, sopratutto in momenti come questi, e offrire qualcosa che sia accessibile. La stampa è stato il mezzo per utilizzare al meglio le mie mani, la mia creatività, quello che mi ha permesso di usare la mia impronta stilistica rendendo speciale ogni singolo capo. Attorno a ciascun disegno c'è uno studio accurato per decidere quale stampa assegnare a ogni singolo modello, a seconda della forma e del taglio, il ché comporta un grande lavoro tecnico. Questa volta hai aggiunto le applicazioni per impreziosire tutto. La mia indole mi portebbe a creare abiti utilizzando esclusivamente applicazioni e ricami preziosi, ma ciò che fa crescere a livello lavorativo è la capacità di realizzare un prodotto che sia anche commerciale, vendibile, avvicinabile. Perché hai scelto le api? Qualcuno una volta mi ha detto che in tanti paesi del mondo le api sono dei portafortuna, sono siciliano e scaramantico per natura, ci ho creduto. E nel tuo caso pare proprio che abbiano mantenuto la promessa, con questa collezione hai ricevuto un premio importante. Si, ora sono alla ricerca di altri portafortuna. – Sorride – Come deve essere la tua donna ideale? Sofisticata e molto sicura di sé. Quando creo cerco di rendere tutto molto armonico, ma è anche vero che utilizzo moltissimi colori, la donna che sceglie di indossare qualcosa di mio conosce sé stessa, è consapevole della sua femminilità e non ha paura di essere al centro dell'attenzione. Dimmi com'è successo, una mattina ti sei svegliato, hai fatto colazione e hai detto: "io voglio fare lo stilista". Più o meno è andata così? Sono nato a Donalucata, una cittadina vicino al mare con poco più di tremila abitanti, il paese non offre molto, fatta eccezione per il paesaggio che è meraviglioso, il liceo artistico è la forma d'arte più alta e la moda non esiste. Nessuna influenza e un solo sogno che avevo nel cuore fin da bambino, ero una piccola pecora nera. – Sorride – Ho cercato di realizzarlo, continuando a credere che potesse avverarsi, ogni giorno, sempre, non hai mai smesso di pensare che sarebbe diventato realtà. C'è uno stilista che ha stimolato la tua fantasia creativa? Lo stilista a cui avresti voluto assomigliare quando hai cominciato? In realtà non è uno soltanto. Mi piace la donna super powerful di Gianni Versace e quella raffinata ed elegante di Valentino, ma non ho mai voluto dare un'immagine univoca. Noi siamo italiani e per indole vogliamo che tutto sia il più sexy possibile, Valentino però è riconosciuto in tutto il mondo per la sua classe, ecco perché mi piace mixare i ricordi che mi hanno ispirato. Quando si usano tante grafiche e tanti colori che saltano inevitabilmente all'occhio, il rischio è quelllo di esagerare, di realizzare un prodotto finito troppo aggressivo e la cosa che più amo del mio lavoro, che è anche la più difficile, è fare un passo indietro e dire: "questo è quello che voglio comunicare, quello che sono io, però tutto deve essere armonico ed equilibrato". Non è semplice, ma è ciò che distingue il mio stile rendendolo diverso dagli altri. Tutte le mie interviste si concludono con questa domanda: "sogno nel cassetto?" Qualcuno mi ha anche risposto che tenerlo rinchiuso in un posto buio è uno spreco, tu cosa mi rispondi? Dico che quel qualcuno non aveva tutti i torti, il mio ha fatto come le api della collezione: è volato via.
Young but with clear ideas, his style lives in his creations: combinations of refined femininity. Piccione Piccione is the winner of the latest edition ofWho is on Next? and I'd call him the new talent of Italian fashion. Behind something sublime, there's always a special person able to make a dream come true and make it easy thanks to creations perfect to dress today's woman with charm. Here is our pleasant chat.
Salvatore tell me, how did Piccione Piccione brand start?  Piccione Piccione was born two years ago after a series of marvellous experiences in England where I learnt much. I got in contact with important realities which made me grow and mature, I optimised my skills and applied my knowledge that I had learnt at school, at the secondary school of arts and then at the IED in Rome, until the moment when I decided I wanted to focus on fashion, the moment I realised what I really wanted to do in life: creating my own brand. I started with my brother and the name of the brand, Piccione Piccione, comes from that partnership but one of the two has gone. This is how it had to be but since the first year, the product has not changed, this is my fifth collection and the identity is still the same. What will it be one of your collection without prints? Prints are your distinctive trait. Why did you choose them to identify your style? Prints give me the opportunity to identify a product in a market that is extremely competitive. Besides ideas that are developed to obtain a quality final result, it is important to pay attention to the final price, especially today, and offer something that is affordable. Prints have the suitable tool to use my hand and my flair at best, prints have allowed to put my mark on every single piece and make it unique. Every design is the result of a careful study to decide which print to use on the different clothes, depending on the shape and fittings and this means great technical skills. This time you've added a precious touch with applications. My style would be that of creating clothes using precious applications and embroideries but what really makes your work grow is the ability to create a product that can be sold easily and that is affordable. Why have you chosen bees? Somebody once told me that bees are the symbol of good luck in many countries across the world, I am from Sicily therefore luck is an issue to me, I believed in it.  And in your case it seems bees have kept the promise, with this collection got an important award. Yes, and now I'm looking for other good luck charms. – Smiling – How should your ideal woman be?Sophisticated and self-confident. When I create, I try to make everything harmonious, but I also use many colours, a woman who chooses my pieces knows herself and her style, she is aware of her femininity and she is not afraid of being noticed. Tell me how it happened, one day you got up, had breakfast and said: "I want to be a fashion designer". Did it go more or less this way? I was born in Donalucata, a village close to the sea of three thousand people, my town doesn't offer much, apart from the landscape which is marvellous, the secondary school of arts is the main form of art there and fashion doesn't exist. No influences but a dream I've had since I was a child, I was a black sheep – Smiling – I've tried to make it true, believing one day it could be fulfilled, I've never stopped to believe. Is there a designer in particular who stimulated your creativity? The designer you admired the most when you started? To be honest, there's not just one. I like the super powerful woman by Gianni Versace and the refined and elegant woman by  Valentino, but I've never wanted to give a univocal image of me. We're Italian and it's second nature to us to make everything sexy yet Valentino is famous in the world for his refinement, that's why I love to mix the memories that inspired me. When using so many different graphics and strong colours, the risk is that of exceeding and create an aggressive product and the thing I love the most about my job and even the most difficult is step back and say: "this is what I want to say, this is me but everything must be harmonious and balanced ". it's not easy but this is what makes my style distinctive and different from the rest. My interviews usually end with a question: "secret wish"? Somebody even answered that keeping it secret, it's a pity, what do you say? I say that somebody was not worng, my wish is like the bees of my collection: it has flown away.