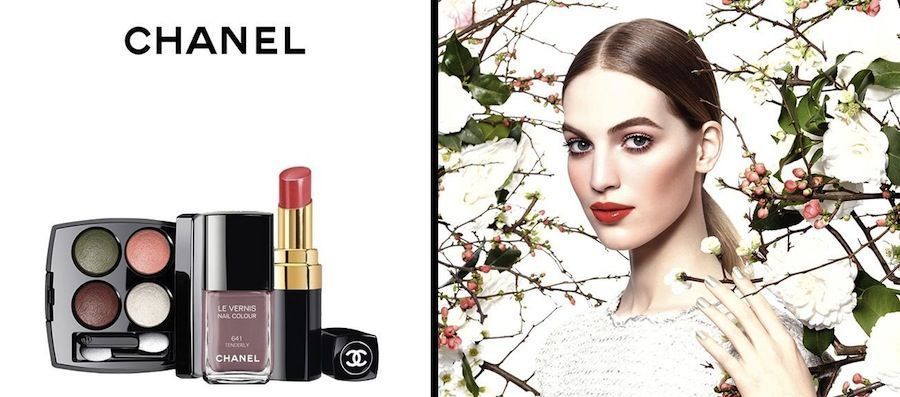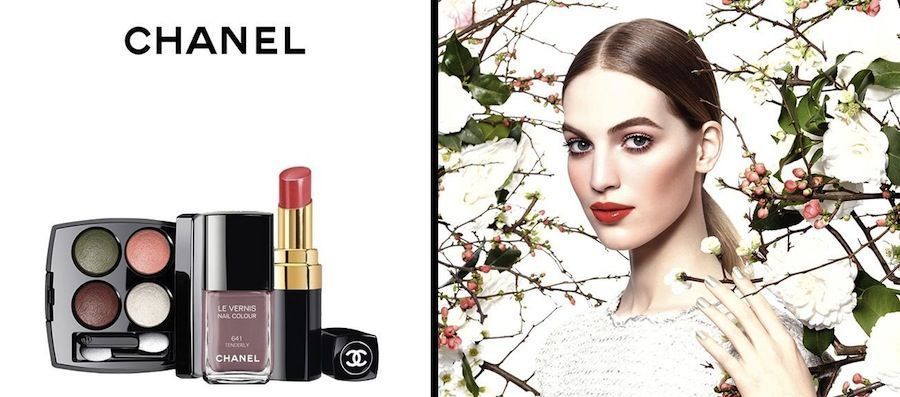 Chanel trasferisce lo spirito fiabesco della sua haute couture alla nuova collezione make up Rêverie Parisienne. Romantica, misteriosa e capace di esaltare la femminità attraverso il linguaggio dei fiori. La sensualità leggera di un giardino incantato si riassume in dieci prodotti che sanno di primavera.
Chanel transfers the fairy-tale spirit of haute couture to its new make-up collection, Rêverie Parisienne. Romantic, mysterious and able to exalt the feminine soul using the language of flowers. The light sensuality of an enchanted garden enclosed in ten products with a scent of spring.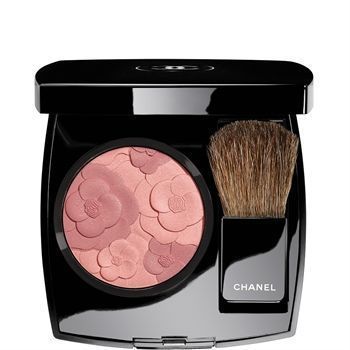 Jardin De Chanel, il fiore a cui la maison non può rinunciare è senza dubbio la camelia, scolpita su questa edizione limitata di fard bicolore in due tonalità di rosa dalla consistenza morbida. 
Jardin De Chanel, the symbol of the maison is the camellia, sculpted in this limited edition of bi-colour blushes in two shades of pink with a soft touch.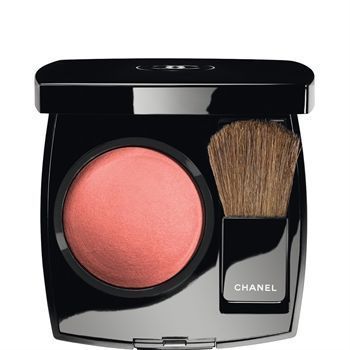 Joues Contraste, il blush che dona luminosità al viso accentuandone i rilievi. La consistenza compatta e il  pennello in setole naturali consentono una facile applicazione per un graduale effetto sfumato.
Joues Contraste, the blush that lights up your face skin enhancing its silhouette. The compact touch and the natural brush allow for an easy application for a delicate shaded effect.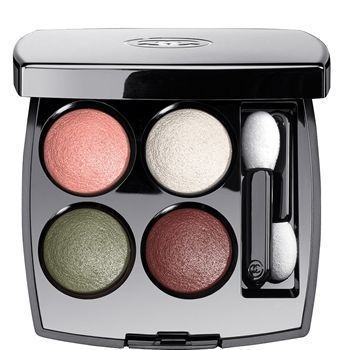 Les 4 Ombres è la palette di quattro ombretti dai colori e dagli effetti intensi che si fondono perfettamente tra loro. Una nuova formula morbida, leggera e ricca di pigmenti puri che scivola sulle palpebre per delineare lo sguardo, garantendo un trucco luminoso, omogeneo, a lunga tenuta.
Les 4 Ombres is a palette of four eye-shadows with intense colours and effects that perfectly merge together. A new soft, light formula rich in pure pigments that delicately covers eyes to mark the look ensuring a luminous, uniform and long-lasting make-up.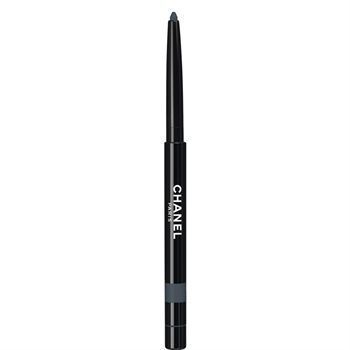 Stylo Yeux Waterproof è la matita occhi dalla mina retrattile e temperino integrato, resistente all'acqua, all'umidità e al sebo. L'alleato perfetto del mascara Chanel che sottolinea lo sguardo con un tratto intenso e preciso.
Stylo Yeux Waterproof is the retractable eye-pencil with integrated sharpener, resistant to water, humidity and sebum. The perfect partners of Chanel mascara that highlights the look with an intense and precise trait. 
Classico e intramontabile è Le Vernis, una formula originale ed esclusiva dall'asciugatura rapida. Le sue bioceramidi e i suoi solventi contribuiscono ad ottenere un effetto indurente e una pellicola resistente e brillante.
Classic and timeless, Le Vernis, an original and exclusive formula featuring quick drying. its bio-ceramides and solvents contribute to a hardening effect and a resistant and brilliant film.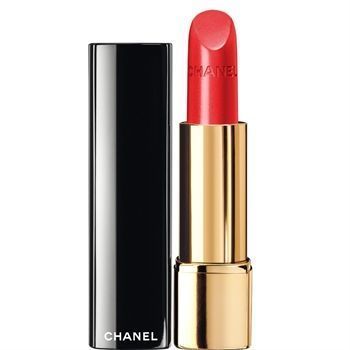 Rouge Allure, testimone perfetto della femminilità, consistenza ultrafine e tenuta perfetta per un maquillage satinato e brillante.
Rouge Allure, the perfect expression of femininity, extra-fine texture and long-lasting for a satin and brilliant maquillage.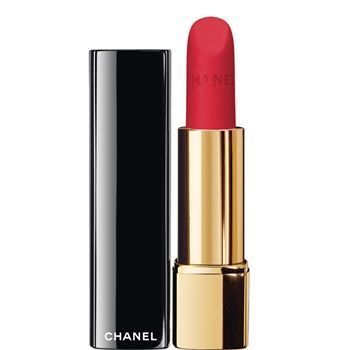 Rouge Allure Velvet veste le labbra con un morbido velluto idratante dall'effetto mat intensamente luminoso.
Rouge Allure Velvet dresses the lips with a soft, moisturizing velvety touch with a matt and luminous effect.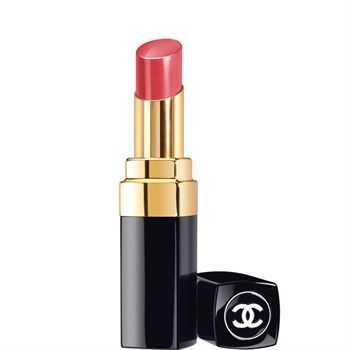 Rouge Coco Shine per un sorriso vivo e frizzante. La sua formula, fondente come un balsamo, dona alle labbra un effetto naturalmente brillante e una sensuale morbidezza. Una formula ricca che idrata le labbra fino ad 8 ore, grazie al suo complesso Hydratendre. 18 nuance che portano il nome dei momenti magici della vita di Coco.
Rouge Coco Shine for a fresh and sparkling smile. Its balm-like formula gives lips a naturally brilliant effect and a sensual softness. A rich formula with 8-hour moisturizing effect thanks to its Hydratendre complex. 18 nuances named after the magic moment of Coco's life.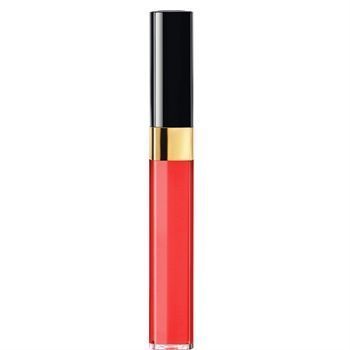 E non poteva mancare l'iconico lucidalabbra Lèvres Scintillantes. Fluido, cremoso ed emolliente per una bocca morbida che risplende.
And the iconic lipgloss Lèvres Scintillantes couldn't miss. Fluid, creamy and soft for smooth and brilliant lips.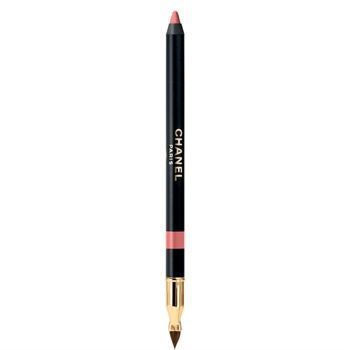 Per personalizzare la linea con un tratto perfetto, Les Crayon Lèvres: la matita dalla consistenza delicata che ammorbidisce le labbra donando loro un aspetto satinato. Una formula arricchita di estratto di camomilla, olii purificati e derivato della vitamina E.
To personalise the collection with a perfect trait, Les Crayon Lèvres: the lip-pencil with a delicate texture that softens the lips and adds a satin touch. A formula enriched with camomile extract, purified oils and Vitamin E derivates. 
Una collezione dedicata al fascino dei fiori e alle sue contraddizioni, delicati nella forma ma forti nel profumo, piccoli nelle dimensioni ma grandi nella bellezza, brevi nella vita ma con un effetto così lungo.
A colletion dedicated to the charm of flowers and their contradictions, delicate in their shapes but strong in their scent, small but  of great beauty, short lived and long lasting at the same time.
[youtube width="900″ height="530″ video_id="E06BD7ckKKE"]