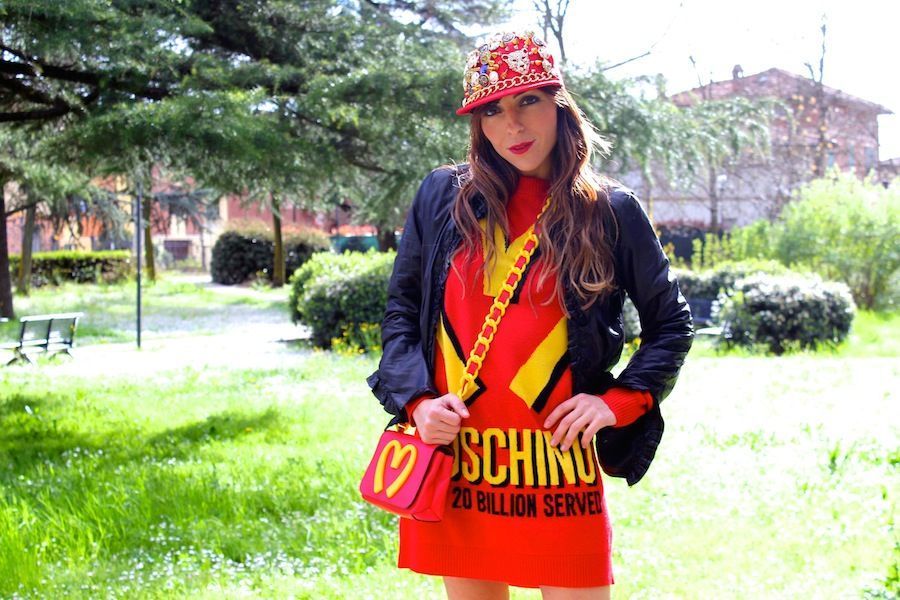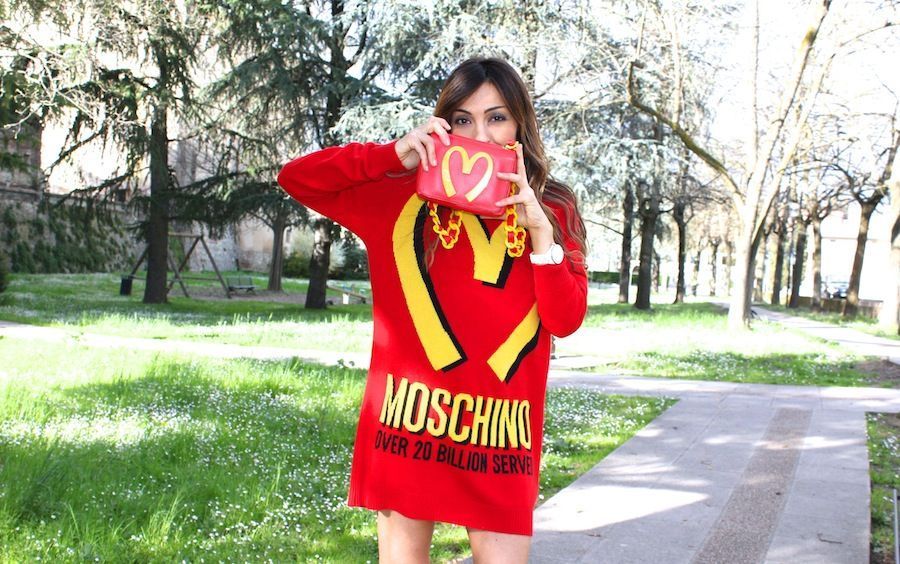 Siamo davvero arrivati al punto in cui non c'è più niente di nuovo da inventare? Ogni volta che ci troviamo di fronte a qualcosa di cui riconosciamo palesemente l'ispirazione, preferiamo definirla una copia spudorata piuttosto che un'originale rivisitazione. E mi chiedo: siamo davvero diventati così critici o siamo solo seriamente interessati alla domanda: "è nato prima l'uovo o la gallina?" Forse esiste, nella mente di qualche brillante designer, l'esigenza di creare qualcosa di mai visto, ma è anche vero che attingere dal passato e ispirarsi a qualcosa di già visto è una soluzione per andare a colpo sicuro. Tutto nasce per evolversi, tutto quello che ci circonda è frutto di idee che si sono sviluppate nel corso degli anni grazie alle sperimentazioni. Quello che conta è l'idea! Sono i modi d'interpretarla e di proporla a fare la differenza tra ciò che è palesemente riconoscibile e ciò che assume un sapore unico, pur rimanendo riconducibile a quella a cui s'ispira. Non ci sarebbero uova senza galline, non ci sarebbero galline senza uova (del gallo nessuno ne parla…) E se proprio di questo stiamo parlando, di chi inventa per primo, di chi copia per primo…che dire? La frittata è fatta! Ma attenzione agli ingredienti: fantasia, genio, personalità, sorpresa, un pizzico di sale…quanto si può imparare da un Happy Meal ;-)?!?
Have we really come to the point in which there's nothing new we can invent? Every time we find ourselves before something for which we clearly recognise the source of inspiration, we mark it as a fake rather than an original revisitation. And I wonder: are we really so critic or just seriously interested in the question: "What came first, the chicken or the egg?" maybe, the mind of some brilliant designers would like to create something new but it is also true that getting inspiration from the past means stay safe and make a hit. Everything is created to evolve, the world where we live in is the result of ideas developed over the years, thanks to experimentation. A good idea is what really matters! The way it is interpreted makes the difference between what is a copy of something else and what is unique yet inspired by a past idea. No eggs without chickens and no chickens without eggs (and why does nobody mention the cock….?) and if we're talking about who's the first to invent and who's the first to copy…what can I say? The omelette is ready! But pay attention to the necessary ingredients: creativity, flair, personality, surprise and a pinch of salt….there's so much to learn from a Happy Meal ;-)?!?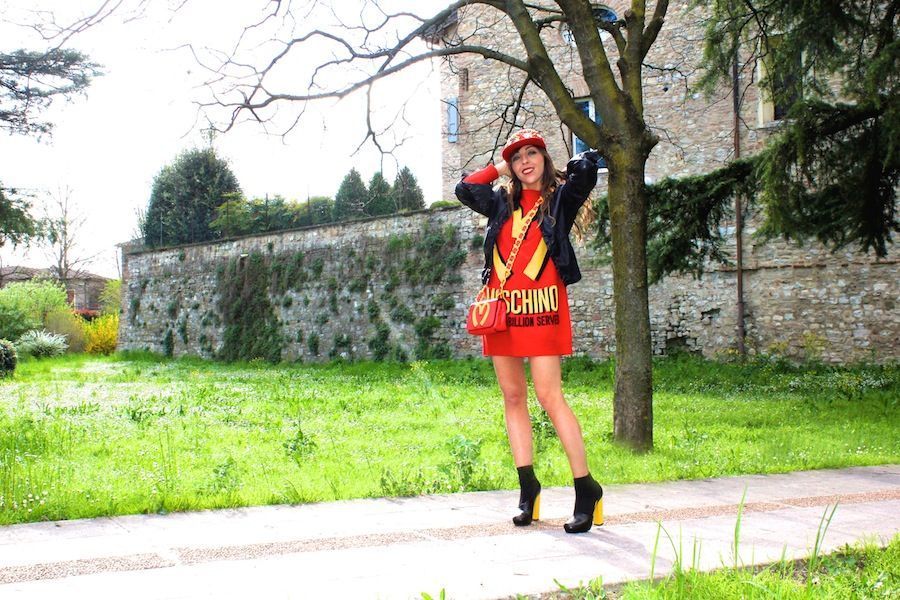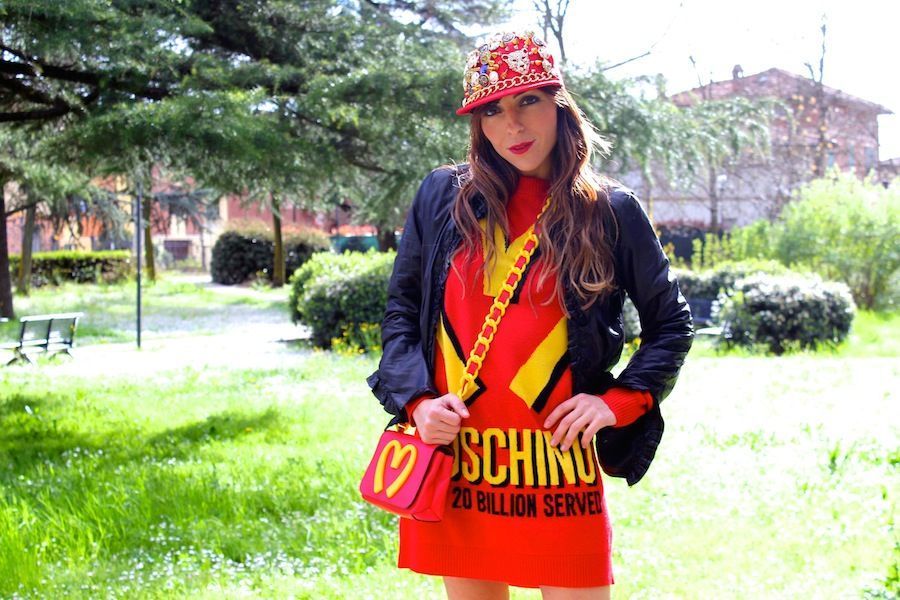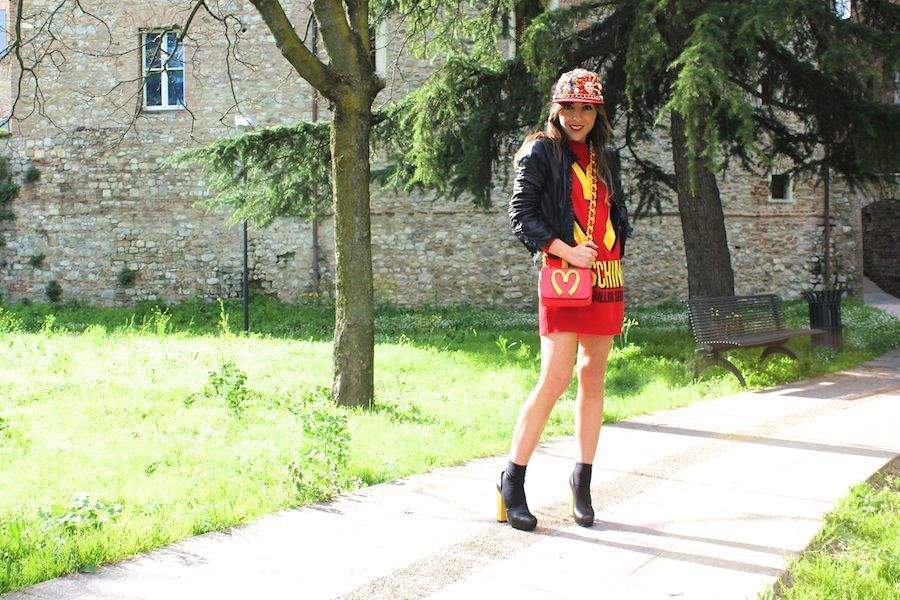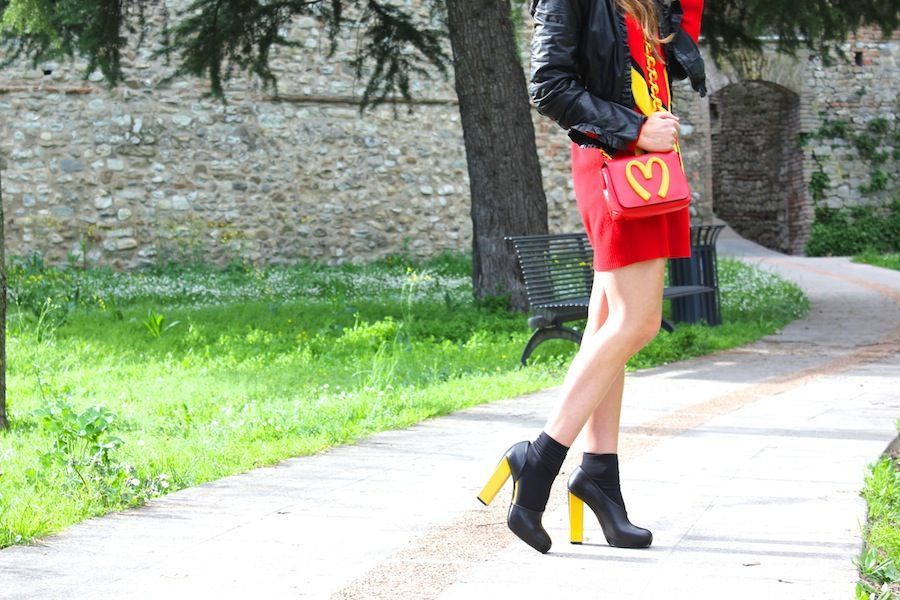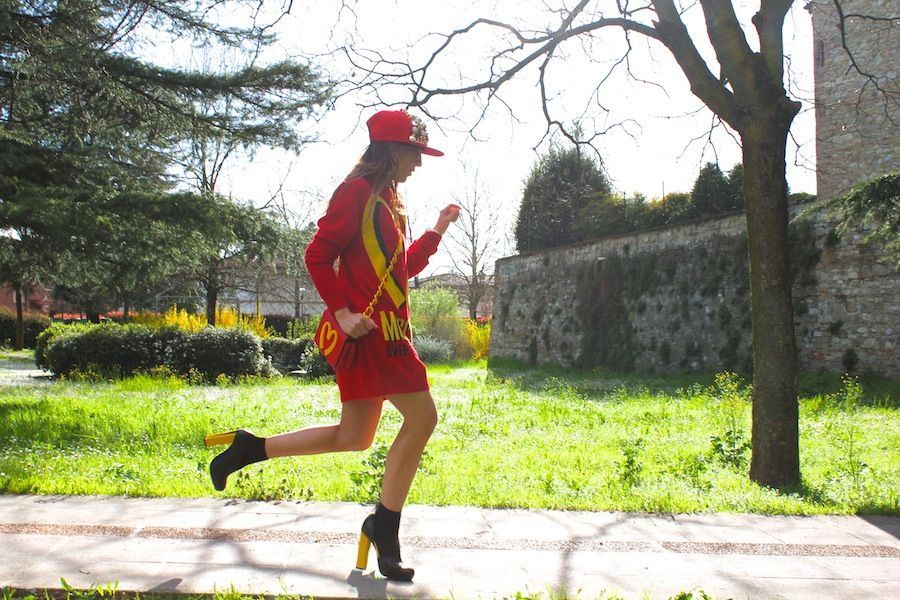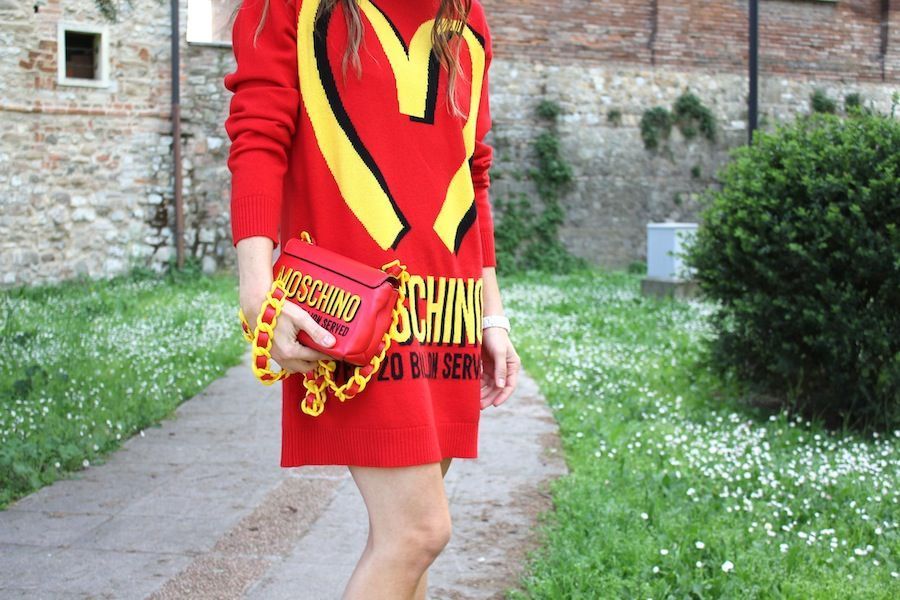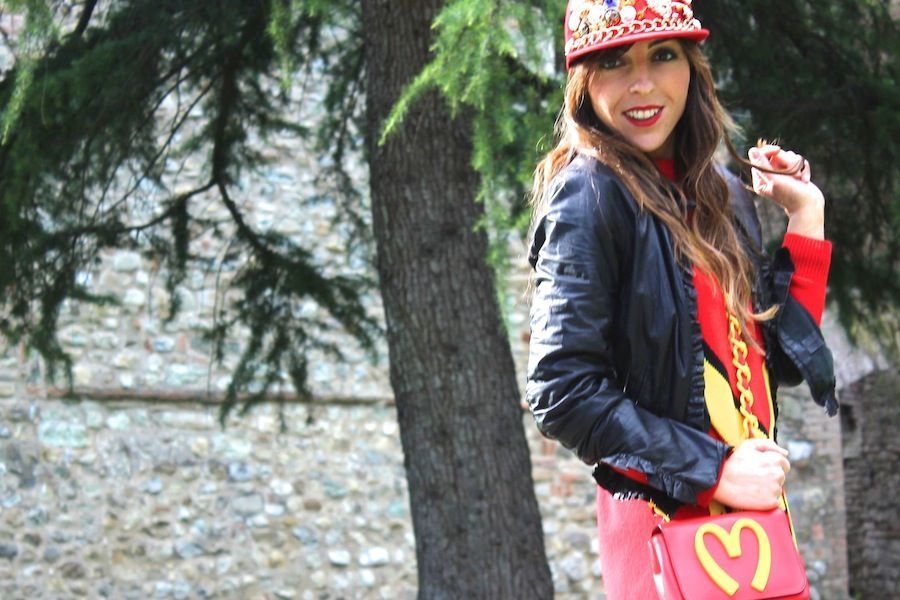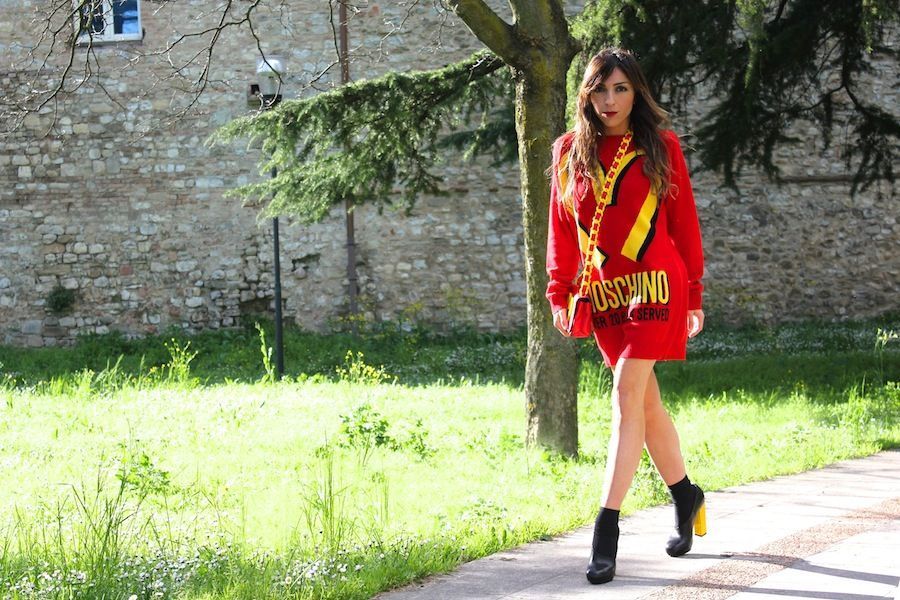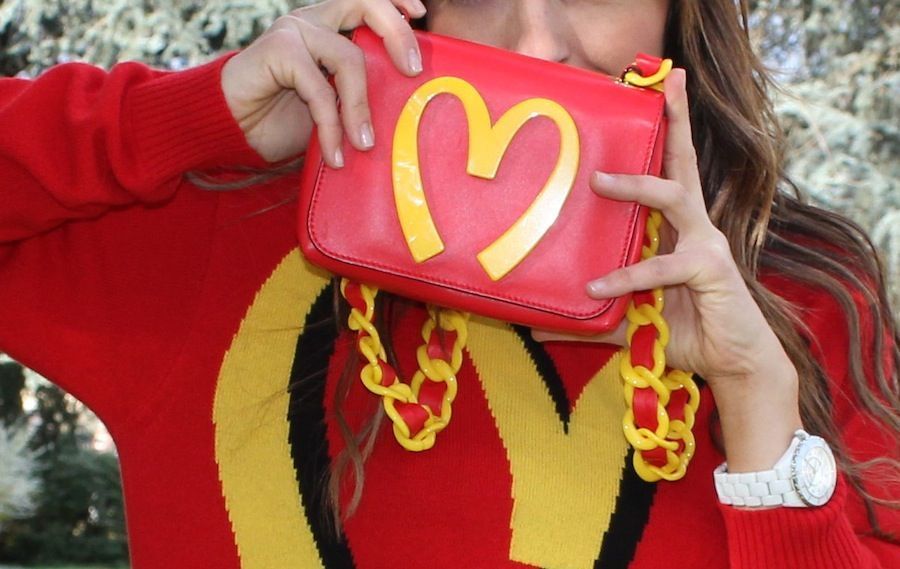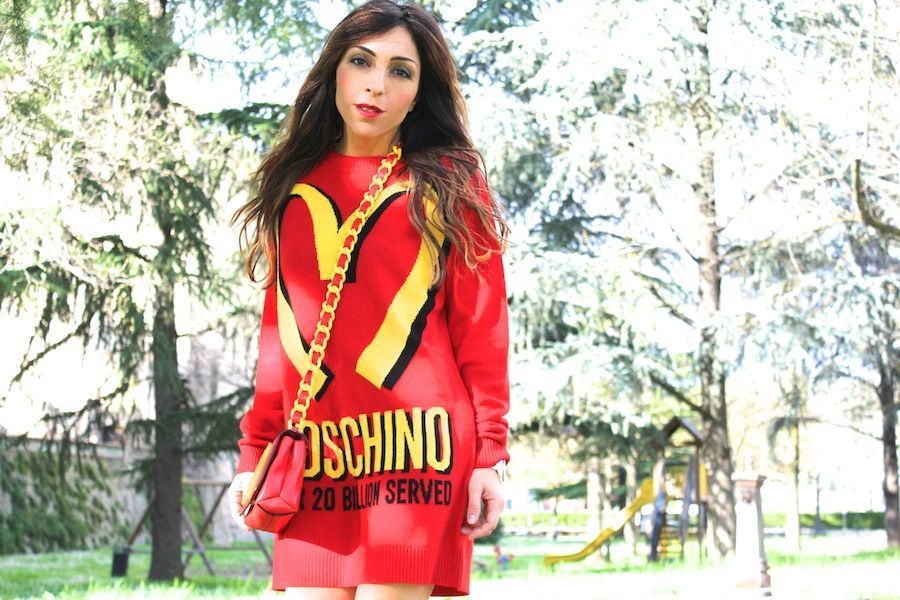 Dress: MOSCHINO COUTURE!
Bag: MOSCHINO COUTURE!
Cap: ANGELINA HEARTMADE
Leather Jacket: IT
Shoes: CHARLINE DE LUCA
A special thanks to CHARLINE DE LUCA and NEXT AGENCY MILAN for the shoes