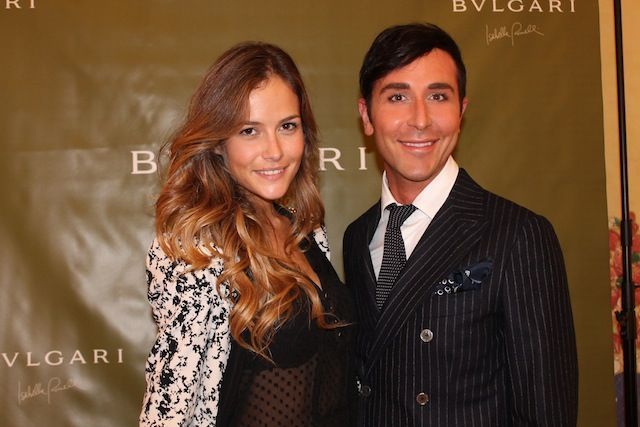 .
DI MATTEO MANZINI
Questa volta Crem's Blog è stato invitato all'evento esclusivo di BVLGARI a Milano,
un cocktail party molto informale e divertente.
Enrica purtroppo non è riuscita a seguirmi, ma una volta giunto alla boutique
ho incontrato la nostra amica Natalia Borges, modella e presentatrice brasiliana,
che è stata la mia compagna per la serata.
 BVLGARI  in in collaborazione con Cicconi, l'archivio fotografico storico italiano,
ha creato una splendida esibizione all'interno dello spazio in via Montenapoleone,
proponendoci un connubbio davvero vincente fatto di pura creatività Made in Italy, cinema e artigianalità orafa.
L'evento è stato un'anteprima assoluta con una selezione di foto di Isabella Rossellini
intitolata"My Life My Collection".
Isabella, già splendida testimonial dell'ultima campagna pubblicitaria di BVLGARI, 
ha regalato al suo pubblico una selezione di immagini di momenti privati della sua vita
e di retroscena di film famosissimi, riuscendo a colpirlo piacevolmente e ad emozionarlo.
Per l'occasione lo spazio nel Quadrilatero della Moda è stato trasformato in un incredibile giardino d'inverno,
location perfetta per una mostra fotografica di questa caratura… ;-)!
————————————————————————————————————————————
BY MATTEO MANZINI
We at Crem's Blog were invited to BVLGARI  exclusive event in Milan,
a friendly and cheerful cocktail party.
Unfortunately Enrica wasn't able to take part in it but I went and
once there in the boutique, I met our friend Natalia Borges, Brazilian model and TV presenter,
who was my companion for the night.
 BVLGARI, in partnership with Cicconi, the historical Italian photo archive,
created a marvellous exhibition in Via Montenapoleone,
a merger of pure Made in Italy flair, cinema and goldsmith's art.
the event showcased a photo preview by Isabella Rossellini
entitled "My Life My Collection".
Isabella, testimonial of the latest BVLGARI's press campaign,
presented a selection of photographs portraying private moments of her life,
behind-the-scenes of cult movies who were really amazing and impressing.
For the event, BVLGARI boutique in Milan changed into a winter garden,
the perfect location for a photographic exhibition of this calibre… ;-)!
 .