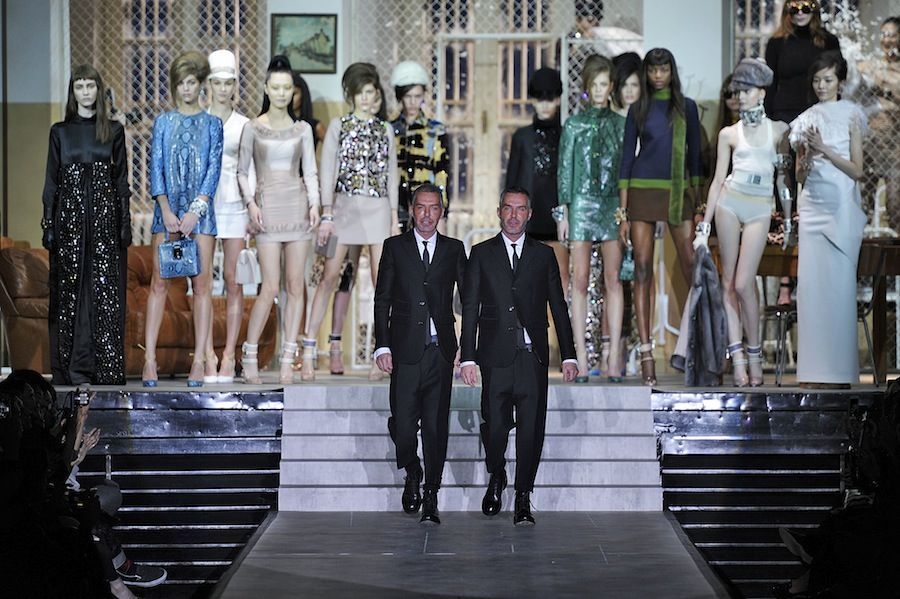 [youtube width="900″ height="530″ video_id="SZ2JxvJRfMI"]
E' sempre una diva la donna di riferimento per Dean e Dan, qualsiasi sia il momento che essa stia vivendo e questa volta, è una sorta di "ragazza interrotta" quella che Dsquared² fa sfilare in passerella per presentare la collezione del prossimo autunno inverno. Una star che si trasferisce in un istituto di correzione, insieme alla sua drammatica femminilità, ma senza dimenticare il suo grande stile e il suo splendido guardaroba. Va in scena un mood anni '70, coi suoi gioielli lussuosi, i suoi tessuti ricchi e i suoi tagli iconici. Abiti da giorno realizzati in pelle bianca con inserti stretch che aderiscono al corpo, a volte accompagnati da cappe a doppiopetto che ricordano le divise delle infermiere, a volte impreziositi da pietre e paillettes tridimensionali, altre ancora nella versione nude attillata come i corsetti ortopedici. Per la sera, abiti teatrali couture e uno dei pezzi più particolari della collezione: la lunga cappa verde smeraldo decorata di piume. Lucide, corte e preziose sono le tuniche in pitone a cui si aggiungono scarpe, borse e cappelli in coordinato. Sandali correttivi con tacchi in gabbie metalliche e cinturino avvolgente alla caviglia. Pump squadrate in punta con maxi tacco gioiello o impellicciato. Doctor bag, clutch rettangolari con inserti di pelliccia, plumage e pietre. Bracciali rigidi e "collari"  dal sapore assolutamente glamour. E per ogni celebrità che si rispetti, anche l'occhiale vuole la sua parte, ampio, importante e con pietre applicate che risplendono di una luce abbagliante…come quella di un flash, di un riflettore da sipario…o è semplicemente quella di un raggio di sole che entra dalla finestra per svegliarla da un lungo sogno?
The muse of Dean and Dan is always a real diva, regardless of the moment she's living in and this time, she is a sort of "interrupted girl" modelling on Dsquared² catwalk to present the next fall winter collection. A star who has gone to a rehab together with her dramatic femininity and of course, without forgetting her marvellous style and wardrobe. A style mood of the 70's with luxury jewels, rich fabrics and iconic shapes. Day dresses in white leather with stretch inserts that completely adhere to the body, sometimes combined with double-breast capes recalling the uniforms of nurses, sometimes enriched with precious stones and 3D sequins, other times again in nude version as if corsets. For the night, theatre-style costumes and one of the most peculiar pieces of the collection: the long emerald green cape decorated with feathers. Glossy, short and precious, the python leather tunics added with coordinated shoes, bags and hats. Orthopaedic sandals with heels closed in metallic cages and ankle strings. Square toe pumps with maxi heels with precious or fur applications. Doctor bags, rectangular clutches with inserts in fur, leathers and stones. And for every celebrity who deserves this name, glasses cannot be missing, bog with precious stones reflecting the light…the light of a flash, a spotlight or a theatre curtain…or simply that of a sun beam penetrating the window to wake her up from a dream?